What is Data Storage – Function – Types
Information Technology Media, 1 year ago
7 min

read
228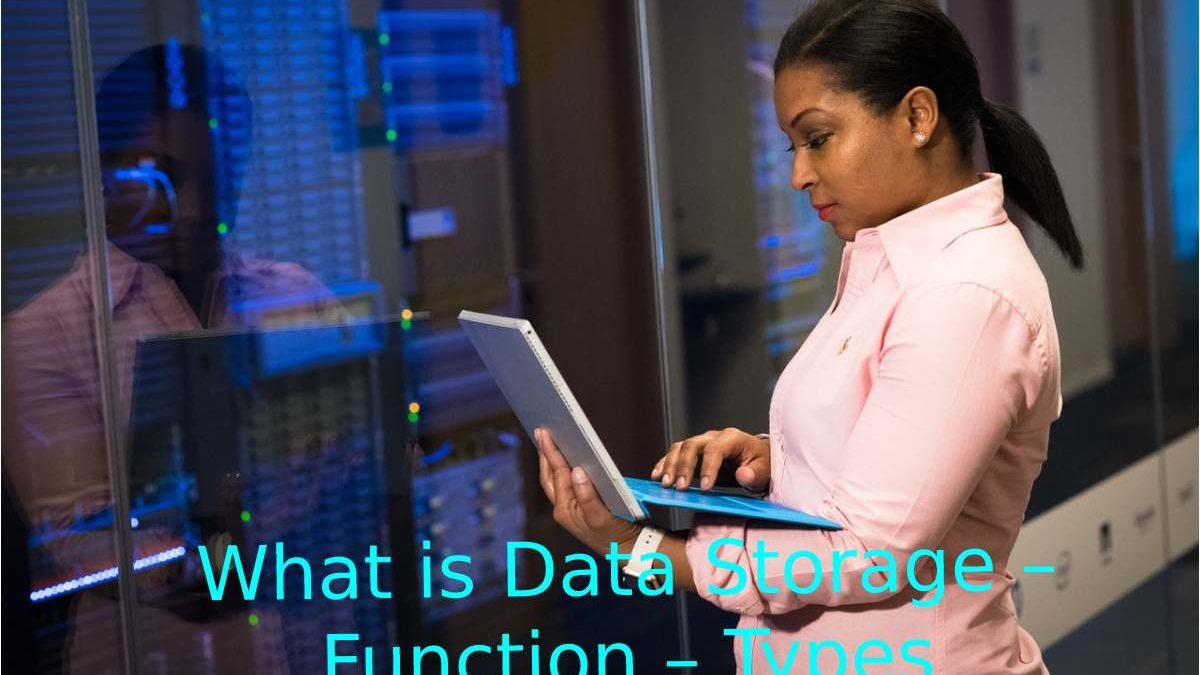 Introduction
Data Storage: All of today's technology is based on the continuous transfer of data, which necessitates data storage usage. The data you have about your clients is a great tool to deploy at the correct time and place in a commercial environment.
Data analysis has become an essential aspect of a company's commercial plans as e-commerce has grown popular. As a result, one of your top responsibilities should be to secure your private information (such as that of customers, workers, and suppliers).
For this reason, we consider it essential to know and understand how it works, the types of storage and its main characteristics.
What is Data Storage
Data storage is the technological process in which bits of information containing images, text, video, programs, spreadsheets, and other digital files of multiple formats are recorded, archived, and saved. Various architectures and storage devices exist to serve this purpose.
Data storage is made possible by different computer systems that use the binary system to record data on spinning disks or other devices. We mainly find magnetic, electrical, optical and network data transmission technology.
There are two types of data storage devices that work similarly to the human brain:
The primary ones are responsible for collecting data temporarily while there is electricity, in the same way, our short-term memory does; an example is the random access memory (RAM) of a computer.
The secondary ones can record data permanently without losing it, even when there is no electricity. Like our long-term memory, an example is the computer's hard drive (HDD).
How does Storage work
Data storage is carried out on different devices with their characteristics, such as materials, speed and capacity. The first to become famous were magnetic tapes, made of plastic with metal particles, which rotated and created a specific magnetism after receiving impulses from the electricity generated in the metalheads. And in this way, the data was recorded, be it text, audio or video.
Storage operation maintains a system with the same bases, but with the entry of the binary language, the possibility was opened to optimize this process progressively. Hard disk drives (HDDs) work with a magnetic disk that spins at high speed while the heads record data on it.
An external solid-state drive (SSD) has a NAND memory that records flashes or electrical charges of different voltages, which are data in binary language stored in their microscopic cells. USB flash drives use this technology.
Similarly, optical storage uses binary language. In his case, he registers microscopic grooves on the disk's surface with laser beams to record the information. Examples include the compact disc (CD), the digital versatile disc (DVD), and the Blue-Ray disc.
What is Data Storage for
Data storage is used to collect data over time. Once classified orderly, it is possible to access the information you need immediately and efficiently. In business, it is used to make queries that facilitate finding solutions, making decisions and creating strategies.
One of its most important functions is to allow businesses to generate and collect databases of contacts; customer information to analyze your buying trends; sales reports; product and service descriptions; human resources structure; administration files, systems and processes of the company; contracts with partners and investors. The list of possibilities is endless.
Data warehousing for companies that provide services or sell products represents a powerful tool that allows them to perform continuous analysis to identify new business opportunities, resulting in better customer experiences.
Another essential aspect is managing the stored data since this procedure allows the collection, access, transport and distribution of information immediately and safely. It is enough to access the devices or the network that contains them.
Each company sets the classification of its information by areas; this allows you to have a better organization. It is useless to have an accumulation of data without any structure to support it. It is possible to group the data into three large areas:
Company information. It covers all the operations that a company does daily during its process internally and externally—sales, campaigns, payments, contracts, tax data, hiring, etc.
Financial information. This includes all economic movements made by the company over time. Saving this information serves for a timely administration of your business resources.
Customer Information. Includes customer databases that contain your name, email, and phone number, among others. Let us remember the relevance of data protection measures.
Added to this are the statistics produced by data analysis applications.
Types of Data Storage
Cloud data storage
Network data storage
Object data storage
Archive data storage
Data storage per block
Software-Defined Data Storage
1. Cloud storage
Cloud data storage is booming. Its system consists of safeguarding data on a service provider's servers, thanks to the transmission of data over the Internet. That is to say, your data will be in a place outside your computer, so they will not take up space on it, but you will be able to access them whenever and wherever you want.
2. Network Storage
This type of storage has a high data transmission speed on a network. There are three types:
Storage Area Network (SAN). And also, It consists of network storage using various devices connected to the Internet and a control unit, transmitting the data to a storage cabinet.
Network Attached Storage (NAS). Also known as network-attached storage, it has its operating system and allows access to private users.
Direct Attached Storage (DAS). Your storage connects to devices directly for data transmission on a private network.
3. Object storage
Moreover, This storage method protects data without hierarchy or classification by folders. It is responsible for processing the data as discrete units or objects at a single grouping level. This type of storage is probably the cheapest, but it is not suitable for constantly being edited data.
4. Archive storage
Moreover, Opposite to the previous case, this type of data storage is based on a tree hierarchy, which includes more folders within a first folder the unique identifier. And also, It works like a file explorer on a computer. For this model, you must have a rigorous organization and classification to find the data easily.
5. Data storage per block
however It divides your data into groups, and each group will have a unique identifier. It use to organize the data apart from each other, but when requested by the user, they assemble again without any problem. Block storage often use for constantly edit data, although this is the most expensive method of all.
6. Software-defined storage
Secondly, It takes care of decoupling storage software from devices (SDS), allowing for greater flexibility and scalability. And also, This makes it possible to access the data with a single centre to manage and automate it. This way, you are no longer content to deal with operating system incompatibility.
Moreover, Concentrating your data is an effective way to have all your customer information on a single platform. However, A great option is HubSpot Data Sync, which coordinates your tools to serve your customers or create marketing strategies. And also, It is compatible with Intercom, Dynamics 360, and Aircall, among other applications.
This feature is part of the HubSpot CRM operations software that allows you to coordinate different areas of your business, such as contacts, conversations, marketing campaigns, sales, customer service, and business reporting. So your collaborators will be able to access this database to provide better customer service and achieve more conversions.
Firstly, Now you know what data storage consists of, its importance in the digital environment, how it favours your company and how it can enjoy its benefits.
Also Read: What are Non-Financial Tokens NFTs – and why are they so Valuable
Related posts