pii_email_066f1e5f1e4576b47760 Error Code
Information Technology Media, 8 months ago
6 min

read
91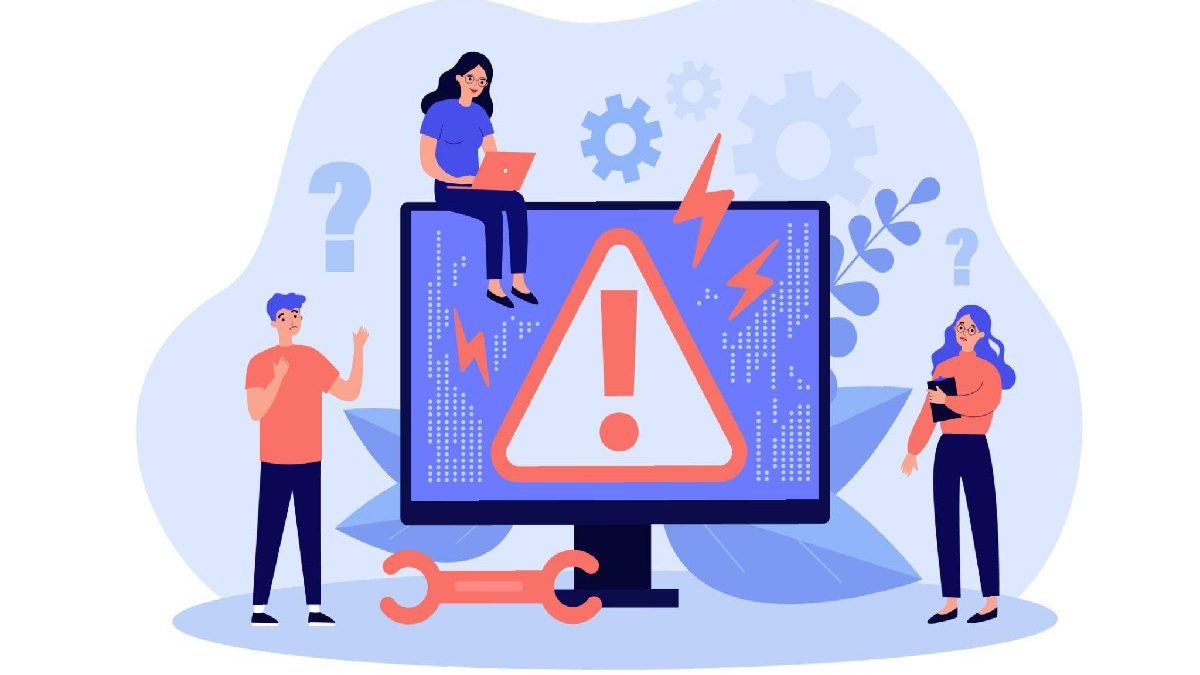 If you're here because you encountered the annoying error code pii_email_066f1e5f1e4576b47760 when trying to use your email account, rest assured that you've come to the right place.
We know how hard it can be to get rid of this nasty Error, and today we are excited to share some practical answers to fix this problem once and for all!
So stick around as we explore the exact cause of this problem and provide practical steps so you can get back to using your Microsoft Outlook software smoothly.
What Is [pii_email_066f1e5f1e4576b47760] Error?
The pii_email_066f1e5f1e4576b47760 Error is an Outlook error code that occurs when the user has entered an invalid or incorrect email address. The error message appears as "Invalid email address: pii_email_066f1e5f1e4576b47760".
This Error usually occurs when the user accidentally enters the wrong email address when sending configuring your account with Microsoft Outlook. This can also happen if the account is not configured correctly or when multiple versions are add to the same profile.
Sometimes, this Error can occur due to system conflicts or installation issues in Outlook.
If you encounter this problem, The most likely answer is to check the email address you entered and re-enter it. You may also need to repair or reinstall Microsoft Outlook if the mail setup fails.
Sometimes, errors may be caused by an outdated version of Outlook or a conflict with other software installed on your computer.
If so, Updating Microsoft Outlook should help resolve the issue. Also, clearing your browser's cache and cookies can sometimes fix this problem.
By following these steps, you must be able to troubleshoot and resolve pii_email_066f1e5f1e4576b47760 errors in time!
If none of these answers works for you, you may need to contact a method support representative for assistance. Thank you for using our services! We are confident this article helped resolve your issue.
How to Fix [pii_email_066f1e5f1e4576b47760] Error?
If you receive an error code "pii_email_066f1e5f1e4576b47760", it means that your Microsoft Outlook is not working correctly.
There could be several details why this is happening. Here's how to fix the pii_email_066f1e5f1e4576b47760 Error:
Check the system Corruption – One of the most common reasons for this Error is System Corruption. It would help if you scanned your CPU for viruses and malware to ensure there are no Outlook issues.
Uninstall and reinstall Microsoft Outlook – If the problem persists after running a review, you may need to uninstall and reinstall Microsoft Outlook. This should help resolve any issues with the program.
Update your Windows operating system: Microsoft periodically releases updates to help resolve various issues with your programs. Try updating your Windows operating system to see if that helps fix the problem.
Use another email program – If none of the above methods works, you can try using another email program like Gmail or Yahoo Mail to access your emails instead of Microsoft Outlook.
Final words
Several reasons cause the [pii_email_066f1e5f1e4576b47760] errors. Sometimes there may be reasons behind [pii_email_066f1e5f1e4576b47760] with using multiple accounts in one Outlook software. It may also be due to an incorrect Outlook setup.
Check whether or not you are using an updated version of Outlook. Only an updated model will guarantee that there are no threats of bugs.
Cookies that have taken up more than the required space can cause more problems. The methods mentioned above will help to fix [pii_email_066f1e5f1e4576b47760] issue.
Related Error:
[pii_email_f899e6915ec5fbce032b]
[pii_email_81d970376f07d82e5615]
[pii_email_d7b63ef3b0d3a3c1ba0d]
[pii_email_b7eca47dc7dd09e3a909]
[pii_email_780721faf2e0c429c5e0]
[pii_email_ef8d2bce709a0015a56c]
[pii_email_7e85ad72e32632248bae]
[pii_email_9045ddcab0866fc1c324]
[pii_email_4f90f9d82fb8e9c04529]
[pii_email_beb2114a13df05d2cd44]
[pii_email_9b6fc46c645fc7eef820]
[pii_email_757d18cf0792ca50e033]
[pii_email_65fd368325b414dfd70e]
[pii_email_448a21e4af5e58ff4bf3]
[pii_email_3ad0d8b18f87c5667ac9]
[pii_email_16b20303b7a773eddf22]
[pii_email_380ae322492cff7a2558]
[pii_email_4d5dac06337b3e083c8f]
[pii_email_95a020940f9f259ff4af]
[pii_email_4944ec66b42375ba1d82]
[pii_email_28fbfcf022099e0890d7]
[pii_email_e8df564e45788d1719f0]
[pii_email_811c88c6c79b2bee346c]
[pii_email_4803b18b0bbfe2270ef4]
[pii_email_f5921b45dcb08652cf9f]
[pii_email_70d1b2a8ecb1d4a02f04]
[pii_email_6fef76b907a2ff96f00c]
#[pii_email_1e5c61817675f92a96bc]
[pii_email_3ecb4c035feac04ae000]
[pii_email_f4e67e5eb4e57ba89b12]
[pii_email_6f9fe105b8f060d710b6]
[pii_email_fc7cdca59e096b0bafdb]
[pii_email_4a0c0d70cc0d42ef2b42]
[pii_email_3e23b11335d3a71b564d]
[pii_email_47e42eef9ba542eb62c4]
[pii_email_7c7277c0d5c658237432]
[pii_email_be87727a1b42d303e516]
[pii_email_ba766cb0c5c67bd5e5a9]
[pii_email_30ea3c24a741b9b580c3]
[pii_email_2f015ccab67036b50288]
[pii_pn_eb1b8dbb39fce58ab2b5]
[pii_email_3a1e53662070a1453290]
[pii_email_c528b92b17eedb3e5e33]
[pii_email_d179b07c072f8623685e]
[pii_email_cb38c6b2bf0559c9f516]
[pii_email_6689d839cd6d2539c39e]
[pii_email_cffa9a58460de6a338ef]
[pii_email_ab3a836e52b9647a6514]
[pii_email_59a07eee8f3b0252aac5]
[pii_email_15dfe225a4694be22cd1]
[pii_email_0787dd552f329fbddcbc]
[pii_email_30f0a57d7a82c72e239d]
[pii_email_5195b67b4a9b259cc833]
[pii_email_c475ab222b6b1b00127e]
[pii_email_f018949db1b6d6fc0b1d]
[pii_email_32500610c6f97d3f198f]
[pii_email_101aeb0a9d114edd3b45]
[pii_email_bfbd70a720eae5cf7a64]
[pii_email_08b95414a8c87832d5d3]
[pii_email_43a5afa9b5c1e3eef7de]
[pii_email_9484b21e211fe2f224a4]
[pii_email_63afb06a061d34361bed]
[pii_email_dc6052bc35826c568251]
[pii_email_f8da5f55b5385a15bbf5]
[pii_email_2db49db3655d632c3804]
[pii_email_ff421788dac2995b4b0d]
[pii_email_dcf6d0d5c4f2d56df4e7]
[pii_email_ae9880cd06e84bbcc37f]
[pii_email_232d8f022cf63110f441]
[pii_email_240a1d759e137b1e9265]
[pii_email_3dc79810347bfac87157]
[pii_email_0776f39deda1b03b6bda]
[pii_email_5f00e45ac02a09b7bae6]
[pii_email_7a8e316be640afd873c9]
[pii_email_f517bd66e7406106d8de]
[pii_email_1c87610ca02cb88d050b]
[pii_email_7853773c087df616585b]
[pii_email_c11ee985ec3fa2d50f21]
[pii_email_9c4293eaaba9e570fbd2]
[pii_email_b1c226f478a3df777924]
[pii_email_4c4b738e06934020639e]
[pii_email_3c28a84b0983b52f2bb5]
[pii_email_f0823cb99b454d62f6ea]
[pii_email_2d8b88357322f847ac74]
[pii_email_67fd6e78ece0fec44bc2]
[pii_email_3e3cf7c690b46d7c6251]
[pii_email_322274a68b5b548fa1fc]
[pii_email_3e65aa7397c378688a00]
[pii_email_9ca7ff7bc04f5f0a0496]
[pii_email_33f5d696d68843d95791]
[pii_email_0118c5680f54a6487964]
[pii_email_8a4f2c711a274dc73f08]
[pii_email_7853773c087df616585b]
[pii_email_73c79a9adcc776faf5c5]
[pii_email_922951806d3f58607462]
[pii_email_ebdcb57c98e220f8e959]
[pii_email_49dac24328fc858705a5]
[pii_email_2b19bb92edaf5e5e09fc]
[pii_email_d8acac84120c0acfd32a]
[pii_email_2de4f9fe311c830d5d08]
[pii_email_deacd088b1fa721c4ae2]
[pii_email_e72a5342151f3b0c2b8e]
[pii_email_0f489a0b49e9380d79b3]
[pii_email_234c0859547771830c81]
[pii_email_2f6437e5ddd4910509b3]
[pii_email_89aa61c1337bed2f1839]
[pii_email_604893c7c3d1d702a1b0]
[pii_email_6a0aba8e5d80f928ccee]
[pii_email_5e8d93309f4add1de456]
[pii_email_6d5e0e60edda47d4e7aa]
[pii_email_49b00de449a9d50999c7]
[pii_email_ebd1a8959adf8f790a28]
[pii_email_0901c132133323d7a4dd]
[pii_email_1954f237392d2499e82f]
[pii_email_f2f330c555ac83892967]
[pii_email_6455d34b6d56df0677c5]
[pii_email_768d03d647566b805b3d]
[pii_email_c8c71dbfd90f650cf508]
[pii_email_2efce6dff2e926dec6a8]
[pii_email_16d4a5859aeec0770d94]
[pii_email_1eb6435ed5928dd44403]
[pii_email_193cfaca48f61cc982e1]
[pii_email_21931f30b8a255d902f4]
[pii_email_30a290c3ed92f4c2ba98]
[pii_email_0403211e0fcc16be02a4]
[pii_pn_0a2032ac8f9c88faf63a]
[pii_email_aadd81694e8c6f8e72a8]
[pii_email_6d264e5997651e7b6673]
[pii_email_d0a5491a0014f92eca2b]
[pii_email_9dc827468a40cc82fd79]
[pii_email_cc7912d00803a06b56b5]
[pii_email_a17f087d616a2d433ecd]
[pii_email_6217c361f4569d56b2c4]
[pii_email_a8e1dbf2d5611b733ce4]
[pii_email_ab8b78d7f3cb895efe45]
[pii_email_2acdf0a9518eec573101]
[pii_email_e365e14391b4f3af89a6]
[pii_pn_6cc2e13ed2914c87f8f1]
[pii_email_c2fc4e5108d40544dca6]
[pii_email_b81c48f54c29e8ceb14f]
[pii_email_28ad7367dd4084836677]
[pii_email_1ece59de9dd3c13cad86]
[pii_email_f2201367a1317e219d60]
[pii_email_384c189f3fabbf7f93b1]
[pii_email_d8f2a009371be1ba96ad]
[pii_email_2da0bfae339211206469]
[pii_email_9f8d4d6b835a1c56e8f2]
[pii_email_034e8e35010e4ed14fe8]
[pii_email_410907f645fbb349e08b]
[pii_email_7a4872b0ec8dc9a6a64c]
[pii_email_9df55aa8794c792b4a11]
[pii_email_d349b16154d851fe3c7f]
[pii_email_7c004ad7feccfcdaa2b8]
[pii_email_3d9ec1038a50175bb1a8]
[pii_email_0ed1bb826d22f3bc8d77]
[pii_email_64f524aab4345e5fd3b8]
[pii_email_f535b38075b547c23181]
[pii_email_8b645ab7de9366b76f22]
[pii_email_1d7b4857a4d546a01274]
[pii_email_259d72d9c835ce96fb96]
[pii_email_e072ea3ee6c24134866e]
[pii_email_a00dfc0748e068beb672]
[pii_email_101161b280335da7785d]
[pii_email_1e933c81109f0f7aca11]
[pii_email_72fbf7ddf7584b7c62b2]
[pii_email_8e22e38bb9ca89a563b6]
[pii_email_c2d2fe4f9f6f31fd5cfb]
[pii_email_5386878a066520613577]
[pii_email_87d969892c68aadaede7]
[pii_email_053897f547d5cd95263d]
[pii_email_a361edcecef97f3d5438]
[pii_email_820eb86b4ce0ab615828]
[pii_email_1e5c61817675f92a96bc]
[pii_email_147c6b44916f5b68a05e]
[pii_email_c26e4d581f42952246e8]
[pii_email_c01bfa536e3018e9a414]
[pii_email_18b90deb96997339c116]
[pii_email_c9f8730280cf00e16aea]
[pii_email_a8840183080e40423b86]
[pii_email_ae9fd3a0594d91b99302]
[pii_email_4d1dd53258e77537ab89]
[pii_email_c20197e7c663a98b5c36]
[pii_email_1a9c95a94e19fad12fad]
[pii_email_a8d47c2af3afc5bca6d7]
[pii_pn_08008e007e6bd0bcd833]
[pii_email_15f36f44e1d754f29ccf]
[pii_email_ad7da5c8c73e37f33f34]
[pii_email_af480a345f01153520f6]
[pii_email_a9b458eec6aa0664df67]
[pii_email_bf08d60e5a97d7ab01ef]
[pii_email_0163b0133d62c56228f3]
[pii_email_828874a9f8dcced7aba0]
[pii_email_9af90a8bd82446d4042a]
[pii_email_09ddb6911cad2ed56bc6]
[pii_email_3410f64be96dea77c60d]
[pii_email_6a1dc3a6c77375c21f6c]
[pii_email_5937f3f17a68714dea6b]
[pii_email_27f330af25eeb7831d95]
[pii_email_a0a577e8a8efd2ba7050]
[pii_email_4275fa4a412075dd90b8]
[pii_email_fea5d671786108a8700a]
[pii_email_300276940579f53b2b00]
[pii_email_6f469efcbefd131ab70e]
[pii_email_11df9f71bbb871f80fc9]
[pii_email_41f85f1baf0ab598fa4e]
[pii_email_d4accf457489de142f79]
[pii_email_bc95a1af7e93a87ce0ad]
[pii_email_b811747da77418222253]
[pii_email_8e18b71b4173dad116d4]
[pii_email_777525bf3eec08caf633]
[pii_email_384cc8faa7c4db5c55d8]
[pii_email_64cdafcbf14b6bb6d397]
[pii_email_949f58dc23b668dd4377]
[pii_email_da2470bf3175129066e1]
[pii_email_395d19194395339519d9]
[pii_email_c4d7649863f3d0c7478f]
[pii_pn_4802f3db9e445f7e04c4]
[pii_email_786d7b92c70aac9375d6]
[pii_email_3eff4b816fc23f0fc4d3]
[pii_pn_cacd57e4af8aa8e3d566]
[pii_email_3dba707dd842ec70be30]
[pii_email_2b4a60f2a94fb9c977ba]
[pii_email_7e6aedfca1aaeccd22a4]
[pii_email_00e1917bd1ea3a10e0b5]
[pii_email_e147590acba094c60dd4]
[pii_email_8824c5f7555a4ac2fb71]
[pii_email_b8f0fa00c501a2fe1181]
[pii_email_574abbc0e9f865b275b0]
[pii_email_57d15573b106569f7a6f]
[pii_email_58cd4dc8bd93dcca0df0]
[pii_email_ed3c8f930e90a9f92924]
[pii_email_1add4ee672298823a308]
[pii_email_217082d76521503c1b6e]
[pii_email_99f568f0df9e321795bd]
[pii_email_ccd85845098f1abb3112]
[pii_email_4693187397a022e4246c]
[pii_email_6bb993fb2fe0bb73f478]
[pii_email_cbebfd465fa7a4eab56b]
[pii_email_addc8b9f7e930f706ef8]
[pii_email_2129f9b8dd7e4a366f78]
[pii_email_6be3d01c3551b9727fc3]
[pii_email_423e9552a3245f1b2897]
[pii_email_6455d34b6d56df0677c5]
[pii_email_628281c16f0be537e414]
[pii_email_3c2172424296902e5c9b]
[pii_email_9023fa8e3717124f7da8]
[pii_email_c47542ee3e2f42063935]
[pii_email_7cb35ee20591b0976e86]
[pii_email_68cabf69b0a67d1d1b91]
[pii_email_4f6c363ef438d45acf8c]
[pii_email_4259b82d2911a3a3a5d4]
[pii_email_3f561c9652c1089b189e]
[pii_email_bffe1cfe65b40b7be676]
[pii_email_ebaebfcb82652cdd1cf2]
[pii_email_6411538d4f3b61fbe139]
[pii_email_4cd4d46e21d0c10a1796]
[pii_email_69e13f7c821ed85927cb]
[pii_email_d84aa09cc01a0a880d74]
[pii_email_a81c1314238a1a5cfb16]
[pii_email_5994ca0c15b3a8472c51]
[pii_email_d137ac4dec86f67a6097]
[pii_email_d276730de6bbcc1de3a2]
[pii_email_c1ea4da76f96c0a6d2ae]
[pii_email_41f03d5f553b30c27598]
[pii_email_81eda4d42cc359a2eb9a]
[pii_email_9c96b0860dc9fa306826]
[pii_email_3a6e97a8443b1ffcf05f]
[pii_email_fbfa39b208901f4f2ea0]
[pii_email_782be14154b8d5ad84f9]
[pii_email_47e3ab051d793da61ec9]
[pii_email_12368784b57d89360692]
[pii_email_60f4e467cf79abdd07d6]
[pii_email_b2738c8ac30d1618f625]
[pii_email_565df130b4991b670144]
[pii_email_953c65e5ac632239018d]
[pii_email_8ea7f7bf6b4b4672b5f1]
[pii_email_8d59680416827996268d]
[pii_email_2fa3ffb9c68c48fa2019]
[pii_email_8fed23be96996388c8ed]
[pii_email_4bf51af9c964d2a736b7]
[pii_email_053835f9d223fe46312d]
[pii_email_18dcaa5e6535c6d0bf93]
[pii_pn_2337f9fefd5ed66f8b3e]
[pii_email_2d2a1fbed13968f38646]
[pii_email_7465d0cde334d32972d9]
[pii_email_b366eebae338bd08d681]
[pii_email_9a9240f347b56ce890df]
[pii_email_e3831bba69401fce61ab]
[pii_email_19c58ecced59420150a1]
[pii_email_373f27f472dfd142b9d1]
[pii_email_d0b5cbb5098d398a0561]
[pii_email_a8c44acead4846c70da4]
[pii_email_f8c8d493e01413b04039]
[pii_email_daaf123e8110cfdf93b6]
[pii_pn_2b2c3878c4bd30e6e95f]
[pii_email_be781a2131e0a36f2c1d]
[pii_email_ff3acd5928cc0f4e80c9]
[pii_email_e97771311b05a2bafa2a]
[pii_email_d2343b5bd41f50a3b08c]
[pii_email_212f420511125bc045ff]
[pii_email_c0465c746965d9e53750]
[pii_pn_cefe2bcfe88ff4ba89a1]
[pii_email_0aa28a3f9be8977b60c1]
[pii_pn_26c38d1366d3218dc6c7]
[pii_email_a13166e912f4c9d5cc12]
[pii_email_604122630e65a35e4387]
[pii_email_962d513d2e9dbfc18f00]
[pii_email_909448c52ab725993fdf]
[pii_email_868d9fb32a318f107324]
[pii_email_d72be788d042ab6baa8e]
[pii_email_e63f9502670d7a9d3766]
[pii_pn_2263301bda8a12eec8c3]
[pii_email_731219c5c1434fa29061]
[pii_email_c9645e12b40f0b34752a]
[pii_email_2342808b92e40ae9db55]
[pii_email_1715df32db7f59d71761]
[pii_email_de6747db7c48bdae928d]
[pii_email_a48cbc49ba97e723ccfc]
[pii_email_8d299788ab5137fd8518]
[pii_email_fbb53a99dfde2832e360]
[pii_email_81ff4555438ce03f0ca6]
[pii_pn_13423f5a23da3264ef8b]
[pii_email_33518e0438d856ba249d]
[pii_email_98d664c58961d1ab96dd]
[pii_email_1e955f82640bdec37784]
[pii_email_8f689f1b88327cbfbeb0]
[pii_email_785602b7602c8a5d573f]
[pii_email_bde0edcdbbab05d805b5]
[pii_email_44a678e72460d2c7c3e4]
[pii_pn_75dd0685214930038f18]
[pii_email_29e11ce224949bbc2326]
[pii_email_2d6bedc3632ee32647fa].
[pii_email_88d8ec4023e42ea0d5ea]
[pii_email_bd609183315e6d77b437]
[pii_pn_e3e9edf423bbd707bbd9]
[pii_pn_15ee0b543103390af263]
[pii_email_600546312d1c635db15a]
[pii_email_9b9caf11d358c1eea038]
[pii_email_bed92961d1b9cb908c83]
[pii_email_08a06f3effac921fd04f]
[pii_pn_2a06a942bcbf5a11b557]
[pii_pn_e4be4520a9facba64a42]
[pii_email_0935161b569862c87ae0]
[pii_email_3f9311ff3c6ba118fb12]
[pii_email_d91621e75d58011d8b1d]
[pii_email_420627098e5daad7ab37]
[pii_email_9dc299d031444b906828]
[pii_pn_80cbc086e32ee6660bc6]
[pii_email_64288a38a4ad03ab91ce]
[pii_pn_2941d3ea3e9b830725a3]
[pii_email_94e078d6f9f00bcd201b]
[pii_email_92d1362e003fb0d52733]
[pii_pn_2f3cf83ab2f025093599]
[pii_email_4d78fbf29b609a5dc69c]
[pii_email_b13afe1b516061b03914]
[pii_email_67c1adecb95e255ca78e]
[pii_email_59ef83a7914eb7287d12]
[pii_email_5a845186e9c5226b9c4a]
[pii_email_1a7f5b124c889f02833a]
[pii_email_a362680896776a898b71]
[pii_email_8f8466279e1efec30273]
[pii_email_714965496abfa060283c]
[pii_email_c4f4bd996a6fa2551548]
[pii_pn_b3d2d63570ccdb4550dc]
[pii_email_1b44705d3d2b0bd6cd38]
[pii_email_9be5fe0ece323aa1f0e5]
[pii_email_14369c64932f8b961913]
[pii_email_f67a97f2567c9ee49916]
[pii_pn_bb98abbdd415de4d32c7]
[pii_email_c30fbdfc27121c1fff7d]
[pii_email_eb0f4bd686ef7956defd]
[pii_email_fd979e981f6f7c0673ec]
[pii_email_32df4488989d73575098]
[pii_pn_2a2d0dcb5fbf88045f82]
[pii_email_d48295bb058f48cc2d97]
[pii_email_2ac1a743b1d0fda43576]
[pii_email_8be4053475d6efca0662]
numero de telefono [pii_pn_fd23e87adc32d0ed542b]
[pii_email_b8b36c7e7509ed95e68f]
[pii_email_3490789583d0e0a291b9]
[pii_email_303330e3ab6a4f0fe351]
[pii_email_8cbcfc23ff9d01d9be0f]
[pii_email_e28a3e934cbcdcb23d46]
[pii_email_a63e092b4f9ee79fb9d8]
[pii_email_08f631e886ee81b3b71b]
[pii_pn_bd7f55b4dbbfdfac0e71]
[pii_email_85e5fbb70fc6f025f48c]
[pii_email_0e163747a9f9443786a4]
[pii_email_22d000add592da1a6113]
[pii_email_3683bc8310bea480edaf]
[pii_email_167dcef8e23e59cfa765]
[pii_email_31adc6aed76d7301a801]
[pii_email_94575c0ff6aaf5ce9cea]
[pii_email_9e2b7338ed72970114ee]
[pii_pn_39f2bab81379137ee054]
[pii_pn_88e18f2ec47d5a50059c]
[pii_email_23537d726bfb32c8b680]
[pii_email_4a125b682a3a95e69e73]
[pii_email_9fae64045d5945486841]
[pii_email_10bd394f7977ad6754d8]
[pii_email_0c350f89c885b3b2c1bc]
[pii_email_b7ebeb38f43cc16b650c]
[pii_email_8ce6856f347e89c6f34d]
[pii_email_122b8898c4b5f5d4e353]
[pii_email_da60f4e8314a0c909103]
[pii_pn_cc8d6ae48528f63e9732]
[pii_email_63f24f261aee93b2cf35]
[pii_email_ceda4afac18b2525cf7b]
[pii_email_f41f9e366cf482663170]
[pii_email_c18ce48cba535d0981e5]
[pii_email_8c367b2b37cbbdd83e92]
[pii_email_450a8d6803cd60759a12]
[pii_email_798a81b9114b1d914492]
[pii_email_4f4532242fe7673c663b]
[pii_email_98e8c48030ab24a31349]
[pii_email_8722b4bada64d5f13b41]
[pii_email_d7b1c8f93d8cfd8988a8]
[pii_email_91735db3e756d0bb3557]
[pii_email_4de5e9b9b635f1e5291e]
[pii_email_bb2b40b522f187724d13]
[pii_email_473d820560a103b1e114]
[pii_email_015067406dbee2535de0]
[pii_email_6491f2b312e828b0bf4e]
[pii_email_1a00e261822d9641c348]
[pii_pn_312ea5c3199fbcc07328]
[pii_email_1f9563d4b598e4c6a8ec]
[pii_email_bc1981d18d09abffe3d4]
[pii_email_96692b514f1f4b09585d]
[pii_email_0ac732df275144ef1421]
[pii_email_107fc43346adc93b26c9]
[pii_email_5e74f2abb1b9a817a7b9]
[pii_email_40c1bf27972574aeb776]
[pii_email_b251ffaacd7f36c79487]
[pii_email_f1aa48f63724343cf7e4]
[pii_email_0ee734473072a5b4b31a]
[pii_email_7e336e25fe59eb92fc55]
suporte.acesso [pii_email_c10868e632ec966da8ad]
[pii_email_a634e916236038c179b9]
[pii_email_dedcac3ab6d42bb2f01a]
[pii_email_7e03bc6678fb3e24fc77]
[pii_email_0fe230c506fe49479018]
[pii_email_08c1193bd19659a0e4ab]
[pii_email_f27aaeb9f5fdd4811195]
[pii_email_78d8a5081ba94eacdee5]
[pii_email_42967f72ca162c3d3c96]
[pii_email_bc86b178db09c2dc70d0]
[pii_email_59016e373075e8918452]
[pii_email_bca788311b33031899c0]
[pii_email_9bb10e86efbd83321529]
[pii_email_0f5d1cc70bee5d4e6719]
[pii_email_3132f339d58ffc3c1974]
[pii_email_0bc3da1ba01eb999f367]
[pii_email_38082ca096439005fe96]
[pii_email_96fc51523fed4af1e257]
[pii_email_73dbd7690da45e9c2b41]
[pii_email_1d5ad285d62e4bc1ecbd]
[pii_email_76a5d4fe56c22acfde62]
[pii_email_a298548aadb3e08028f3]
[pii_email_a14b6768acfed3d4153f]
[pii_email_18cd9e314ddfe40c3ca2]
[pii_email_ce17081926ccb61fbbe5]
[pii_email_d6ba3ff7e2fdc5ca7361]
[pii_email_7e3d44b40c5b2ff01a81]
[pii_email_f9ce0595bfa3895dea61]
[pii_email_b7d77a88f1f716a4e737]
[pii_email_873d848bc86403021191]
[pii_email_bc88d0d503a547d5746b]
[pii_email_407267129e2ab0979acd]
[pii_email_92049fd10bb799c424b0]
[pii_email_8e3b651a1923a0f3e226]
[pii_email_ec1182ae4954baba9197]
[pii_email_5773f3f19eaed658715d]
[pii_email_98acc239225c86b0cc38]
[pii_email_0e7fd286b573ff758214]
[pii_email_1421b643a8170725bf7c]
[pii_email_f076bed13f985ec411a8]
[pii_email_d1b827f1d58e136a3657]
[pii_email_46ad91d2ba7008843ac7]
[pii_email_23f6e45003b00f30cfd4]
[pii_email_4155019b836b3c774534]
[pii_email_95a119133dd74b07260c]
[pii_email_fb88d42a41fa165e4cb5]
[pii_email_841530d9fee2fec51130]
[pii_email_5d710bc63919978b79d6]
[pii_email_72c4b5e217f8c9d9157e]
[pii_email_f72bbef290e65600c947]
[pii_email_4d77392e44b0f4625aa3]
[pii_email_9163ca31bfd0b7610122]
[pii_email_13f6f215eb39250482e3]
[pii_email_ce6ba071cc4758641387]
[pii_email_bae0c974e1aaec866d82]
[pii_email_8fcdc25d36e8e5241df6]
[pii_email_9cf08eee69dff49eeb37]
[pii_email_3b822f4fe8f48176f3ed]
[pii_email_fd92159f7d2a139a27e0]
[pii_email_68449ef8b8267258f81f]
[pii_email_7dedb73e5505d0497db8]
[pii_email_85b0eb43dec20726d6e5]
[pii_email_aa14ded4b0058e7cc2b8]
[pii_email_43ce0a0891c00293855c]
[pii_email_20e9bc95c7ec3fda3120]
[pii_email_b4adaca883ed7321e387]
[pii_email_4bb227c556e2fec514bb]
[pii_email_43d5ef7fa8da0af34fab]
[pii_email_430963a2864a95b60495]
[pii_email_404c20f0d8e916c5aebf]
[pii_email_619a891e197d0ad4ec40]
[pii_email_991c5df1952eb265b51a]
[pii_email_582402beadb310280063]
[pii_email_2c960870a9f809455e47]
[pii_email_2cf20de9c36362da8efa]
[pii_email_575a3703d181149bff62]
[pii_email_958cc25ad7ea3b3e0000]
[pii_email_3f720e3a0ffbd8e3a6cb]
[pii_email_3f22c699d1bb3f2e6d2b]
[pii_email_f911dfb0815246017a78]
[pii_email_8944f797c62f599c91f1]
[pii_email_7836de0c75ac3e85d023]
[pii_email_215a6201c0c7e8b216e2]
[pii_email_a5ec87865621b2ca8d13]
[pii_email_30901164339916c5341b]
[pii_email_06757bc5ffe54a5a79d8]
[pii_email_a6acf3ccbceddb683360]
[pii_email_35d9c9bdd7c075b7ff07]
[pii_email_64fc695e71af9b2983b7]
[pii_email_f56710b3ee6485e4d44f]
[pii_email_cfc2c004deec19b23baf]
[pii_email_7de61386091ae69c4081]
[pii_email_d2e922e1d489932eaf74]
[pii_email_429d3e7e7d628f02e3a7]
[pii_email_fdb1682c18f7dfeb0d47]
[pii_email_398f86f5606a42692b63]
[pii_email_036873ad78449453d88d]
[pii_email_5062b8ecd7313777db88]
[pii_email_b995928a4e14dd446387]
[pii_email_e8439c61385c018a82f8]
[pii_email_06ea10e0cc4d5eaa8d20]
[pii_email_ba988ac5293d1cbbfbec]
[pii_email_37c1dece48af949cefc6]
[pii_email_583f716f9d7a4da6501a]
[pii_email_060f4af9fe3f51d2d958]
[pii_email_cbf220d55083a21c1ffe]
[pii_email_ca30d7c885e12d6e2ed2]/es
[pii_email_59a60f98b693da1e09b4]
[pii_email_7ade6540e7d1ee28958c]
[pii_email_4528d6ca35c70de29002]
[pii_email_7e459475452c648cb36c]
[pii_email_12a4c58da68b2ede179f]
[pii_email_74d9734e50e9834d9366]
[pii_email_9688307cd56d7312518b]
[pii_email_2fc5392a247c4b141a32]
[pii_email_b9b38141361a437faeb6]
[pii_email_10988133ac336b2ba96d]
[pii_email_942eb602e5919162d23a]
[pii_email_ea569b92469162561061]
[pii_email_1dd33469b497a988f8c0]
[pii_email_65eb601967e45010a508]
[pii_email_37244068e516a0de79d9]
[pii_email_01c44b24ec71843a2255]
[pii_email_b9ce4a385cb8780d05d3]
[pii_email_642f87fa885e80d1860d]
[pii_email_d11e9875f8540b944290]
[pii_email_c686da4f3a3c8ea56219]
[pii_email_4528d6ca35c70de29002] fatura
[pii_email_97203e38a34837406de3]
[pii_email_25ded7ae1d4fb481970d]
[pii_email_8ac9302c04052e65723a]
[pii_email_f2b40bc10846eb87b27b]
[pii_email_ccb233f1c2d2bcf2e4e3]
[pii_email_ee2e7b80c8518e1aef95]
[pii_email_a77847b671a1ccf8e3de]
[pii_email_628bf04a753cba0e6900]
[pii_email_a41aa47e078a6f225151]
[pii_email_d6d2f5e0f54e5e4dfe24]
[pii_email_da70fd5ecceaba0dd3a2]
[pii_email_4e5862089c2e92007a64]
[pii_email_9756c8c5c032e53bb076]
Related posts