What are Strategic Alliances
Information Technology Media, 2 years ago
6 min

read
283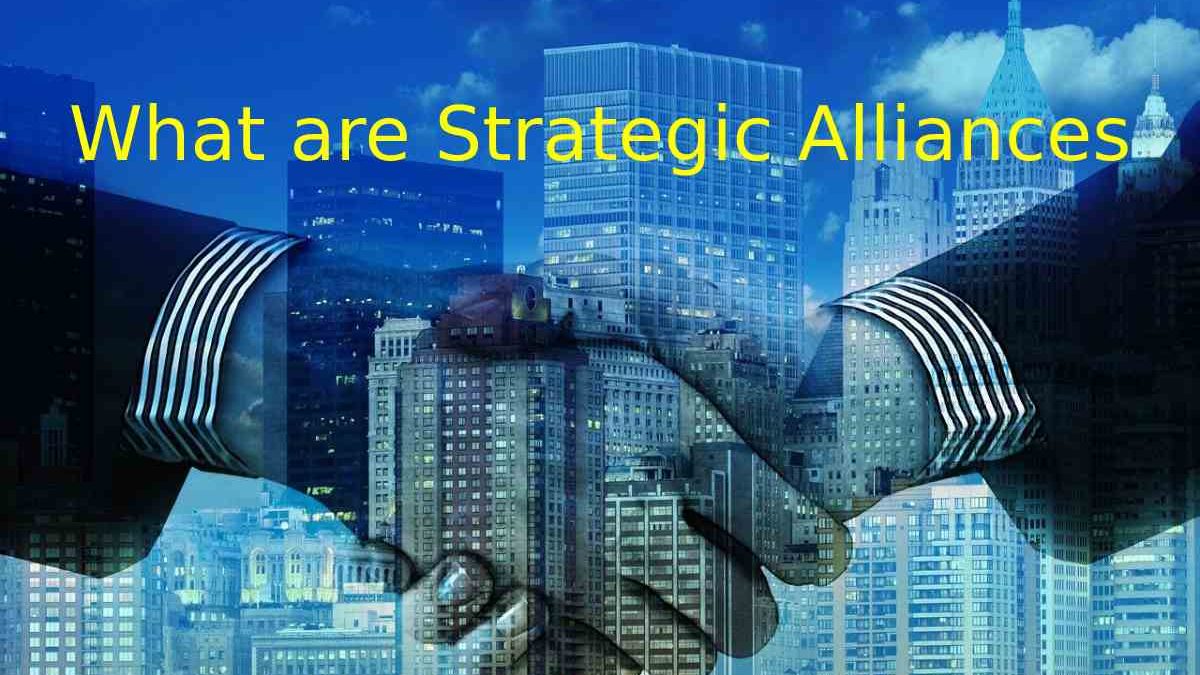 Introduction
Strategic Alliances: A Strategic alliance is an agreement between two or more parties to achieve their aims. As a result, an alliance may be described as a group of individuals, corporations, or nations that agree to work together to achieve a common goal.
Objectives of strategic alliances
The main reasons and objectives for which strategic alliances occur are:
Accessing new markets through partnerships with companies in other countries knows the peculiarity of doing business.
Improve the technology used in production processes through a technology partner.
Minimize investment risks in the development of new products.
The acquisition of new clients results from the merger or joint exploitation of certain commercial operations.
Strategic alliance process
The process of forming a strategic alliance can be summarized in the following steps:
Formation: this stage includes the exhaustive analysis of the need to join another company, examining advantages and disadvantages, compatibility of organizational cultures, etc. Then we proceed to evaluate the possible candidates to find the right one, according to the objectives set by the company. Finally, the negotiation stage between the parties will begin.
Operation: must work together with the structure and staff of the associated company to achieve the established objectives and improve the alliance's performance.
End of the alliance: the agreement can end because the proposed objectives were achieved, by the parties' decision at any stage of its implementation, by establishing new partnerships, among others.
Types of strategic alliances
The most well-known types of strategic alliances are:
Joint ventures: when two or more companies come together to form a new one.
Venture capital – Also known as risk capital, it occurs when one company buys another company's shares for a set period.
Franchise occurs when one party grants another the right to use a proven system intended to market specific goods or services under the giver's trade name, emblem or brand in exchange for a certain amount of money.
Outsourcing: when a company outsources some of its internal processes to another company that can perform them more efficiently.
Production Alliance – When companies come together to manufacture a product jointly.
Distribution Alliance – Agreements between organizations that come together to distribute their products or services jointly.
Advantages and disadvantages of strategic alliances
Advantages
The benefits of strategic partnerships are:
Market expansion through agreements with international companies.
Faster operations due to the partner's experience in a particular sector.
Technology transfer.
Shared risks.
Access to new distribution channels.
Disadvantages
The disadvantages of strategic alliances are:
Lack of freedom of action depends on the parties' constant consensus on the agreement.
Lack of shared business vision.
The use of confidential information leads to mistrust between the parties.
The poor management of a partner can harm the brand's perception of the company's customers.
Examples of historical strategic alliances
Some well-known business alliances are listed below:
Apple and Samsung: Although they compete in various fields, the South Korean company Samsung manufactures many of Apple's internal components since it has the infrastructure and factories that allow it. They make a strategic alliance of the "outsourcing" type, where Apple outsources internal processes.
United Airlines and Starbucks – The airline exclusively serves coffee from this famous company. In this way, Starbucks adds a new and outstanding distribution channel while United Airlines obtains a Premium coffee for its customers.
McDonald's and Coca Cola: the fast-food company and the soft drink company have maintained, for years, exclusivity agreements similar to those of their respective competitors, Burger King and Pepsi. In this way, McDonald's benefits from having one of the most popular beverages for its target audience and Coca-Cola secures a potential sales channel.
From a commercial point of view, strategic alliances have been around for a long time. However, the rapid technological changes and the significant influx of players in the market have made strategic partnerships become a fundamental tool at the level of competitive advantage.
Suppose you are considering ​​giving your business a more significant boost through a strategic alliance. In that case, we invite you to read this article to understand what strategic alliances are, what they are for and what types of alliances exist.
In addition to this, we will share a couple of examples of successful strategic alliances and a series of tips that we invite you to consider if you want to build solid partnerships with other companies.
Start selling online with Shopify now
Strategic alliances are agreements between companies that agree to work together by joining their forces and resources to achieve mutually beneficial objectives. Starting from this definition, we can say that the following three variables define strategic alliances:
They are built based on agreements.
They imply the union of forces and resources.
Mutual benefit goals are shared.
Such agreements may take the form of various business forms, such as a joint venture or co-branding relationship. However, many of these unions are not necessarily strategic.
An alliance is truly strategic when the parties involved share a business vision focused on developing new proposals and business models through a shared ecosystem of products and services.
Concerning the agreed mutual benefit, it is essential to say that the elaboration of such help responds to the need on the part of the companies involved to achieve objectives such as the following:
Optimization and cost reduction.
Access to new markets and types of customers.
Improved competitiveness in the market.
Risk reduction (especially when considerable investments have to be made).
Access to new technologies.
strategic alliances definition
To understand the impact these agreements can generate, we will look at some of the benefits of strategic alliances between companies in the next section.
Importance of strategic alliances
As we said in the prologue to this article, strategic alliances offer companies a competitive advantage in the market. Let's look at five of the main ways competitive advantage can manifest.
1. Better perception in the market
When two established companies join forces, the market reacts positively, and each company can take advantage of the other's reputation and corporate image. Said union also weakens the previous position of the competitors.
2. Brand consolidation
Parallel to the above, strategic alliances is a fundamental part of the brand strategy of many companies. Thanks to such partnerships, brands reinforce their reputation among the different types of customers they serve.
3. Resource optimization
Unlike mergers and acquisitions, strategic alliances do not carry the vast costs of such operations. Strategic partnerships maintain commercial autonomy where the companies involved only share a certain amount of resources to obtain mutual benefit.
4. Strengthening of human capital
When two companies merge, employees can learn from each other's experiences and skills. In addition to being a natural investment in the human capital of both companies, this merger represents capital savings in terms of staff training.
5. Access to new customers and markets
One of the significant advantages of strategic alliances lies in gaining access to customers and markets. In other words, it is an expansion that immediately and organically opens up countless opportunities for the parties involved.
As you can see, the benefits offered by strategic business alliances are pretty significant. However, strategic partnerships also offer some risks and disadvantages, especially when the alliance-building is not done correctly. Here are some of the most common:
Differences at the level of management and business culture between the parties.
Lack of trust between the parties.
Little clarity regarding the vision and objectives to be achieved.
Also Read: What Exactly is a Free Bingo Bash
Related posts